Peter Caughey wins 10th NZ Jetsprint title in nail-biting final – wins season by one point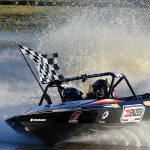 Four points separated the top four racers heading into the tightest SuperBoat season finale ever held in New Zealand, and three of those racers are current or former world champions.
The best in the world are never known for holding back, and Featherston's tight and technical track was expected to make for a nail-biting finish.
But when season leader Glen Head dropped out in the top eight elimination round with a breakdown, and second-placed Leighton Minnell missed the cut by hundredths of a second, it was all on between Peter Caughey and Rob Coley, tied on points as the flag dropped for the final elimination round.
An elated Caughey said after the race, "We knew the final would be sensational no matter who won, but it feels unbelievable to have been trailing by four points at the start of the day against this calibre of competition, and still to win the day – and the season."
At the last moment the usual top five, top three format was switched to a top-five final only thanks to the high risk of sunstrike, which made a final result that much harder to pick.
"The sunstrike was horrendous coming down the middle," Caughey said, "I just had to lift off as you just couldn't see, that's how it was for all of us. We went into that final five knowing then that Glen Head was out, that Leighton Minnell was out, and to take the championship it was a race between Rob Coley and ourselves."
Caughey said he made a conscious decision not to chase Richard Burt for the event win, but instead to chase the season result, "And if that meant we were second today, at this event, so be it. But the racer in you comes out, and we went into the final aiming to beat Coley's fastest time, and managed to clock a 54.452-second lap." That was the fastest round of the day, albeit only just faster than Richard Burt's quickest time, the final result sealed when Burt made a navigational error.
Caughey said, "It was a great result for Rob Coley in his new Sprintec boat, second today and second in the championship – a well deserved result for Ange and Rob. He's a hard charger, very focused on his racing, and it was great to see him get a good result."
"Dave Simmons in third place proved again that a consistent performance brings results, but Glen Head had a hard day at the office."
He had been working hard to rebuild his motor in the two weeks since it blew up at Whanganui, having to also get the new ECU tuned. "He only arrived at the track in the early hours of the morning, having clearly burned the midnight oil, then he had an off-track excursion in the first qualifying round, followed by numerous small issues throughout the day. To his credit he persevered, but he was eliminated in the top eight when his super-lightweight flywheel gave up the ghost."
As for crashes, sunstrike and a few misplaced lines spun boats from the water, the worst being Robert White and his navigator daughter, Nicole, who drove all the way from Invercargill with an ex-Caughey Sprintec boat. "After making a few improvements to their boat's set-up, they misjudged a corner by a few centimetres and crashed heavily into an island. Fortunately, they were checked by the safety crew, and were okay."
Caughey paid tribute to his ENZED crew, to his wife and family, and to his loyal sponsors, ENZED, Trojan and Total. "It's an incredibly humbling experience to have so much support from such a great bunch of people," he said.
And of course, he thanked his navigator. Young Shama Putaranui picked up her first NZ navigator championship title, but it was Caughey who was the toast of the day.
After all, this was his 10th New Zealand jetsprint championship – his eighth in the prestigious, high-powered SuperBoat class, with two in the open B class before that.
What now for the Canterbury racer?
"I'm going to take a deep breath! Then it's off to ENZED in Nelson on Tuesday, and home to North Canterbury late Tuesday night to chill out, debrief, and decide what we're going to do for the future. We've got some pretty exciting plans underway, and we're already in discussion with new clients."
"It looks like it will be a very busy off season."
NZ Jet Sprint Championship
Featherston result, round six, top five elimination, provisional result
1 Peter Caughey 54.452 seconds
2 Rob Coley 55.644 seconds
3 David Simmons 59.535 seconds
4 Scott Donald 62.609 seconds
5 Richard Burt 66.009 second
NZ Jet Sprint Championship Suzuki SuperBoat provisional points
Top five after all six rounds
1 Peter Caughey 158
2 Rob Coley 157
3 Leighton Minnell 154
4 Glen Head 153
5 Richard Murray 149