Kiwi Caughey leads World SuperBoat title chase
Trojan-Sprintec crew ahead with one round to go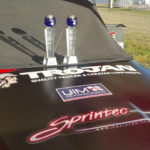 Peter Caughey took the chequered flag to win round one of the 2018 World SuperBoat championship in Keith, SA yesterday, and he did it in style.
"Ours was the only team to crack the 49-second barrier – we posted a 49.24 in the final elimination round."
The racing was spectacular at this track. The water is sourced from deep bores, very high in salts, and so it's buoyant. That means boats sit high in the water and control feels 'loose', so teams must spend every free second fine-tuning the boat to get enough traction through corners.
Get it wrong, and these 1000hp boats spear straight off the track – they have no brakes, and must be in the water to retain control.
To make the day more difficult for overseas contestants who had never raced there, Keith was a demanding track with narrow corner exit channels out of half the corners – many of them preceded by a fast approach.
Screaming into a turn at over 130kph without brakes, and with your boat skittering across the surface, made for some spectacular crashes.
"Notably Auckland's Baden Gray misjudged a 90-degree right-hand turn during a blinder of a lap," Caughey said, "Flying out of the water and landing bow first into the opposite channel before pirouetting out onto the grass, and landing on its side, fortunately settling before it made a complete roll."
Caughey said the track clearly suited the twin turbo and supercharged V8 boats, "Especially during the first half. We were really pleased to get our split time down to within 0.01 seconds of the fastest twin turbo."
Caughey fought to the win despite the fact his Trojan-Sprintec boat delivers nearly 400hp less than most of his closest competitors. "But our boat is light, it's agile, and it exits the turns with great momentum."
He was keen to thank his team for the outstanding effort they put in this weekend. "It's never easy racing overseas, and especially at venues you've not raced before. But it's all part of the challenge, and sometimes perseverance and determination are your best allies."
He may have dominated the class, setting fastest times from the first qualifier onward, but his sixth world SuperBoat title is far from a done deal.
"The UIM World Championship points system is pretty brutal, and tends not to favour the victors as there's only one point difference between each placing."
Peter Caughey came away with 40 points, Phonsy Mullan (Australia) in second with 39, and an ecstatic Nick Berryman (NZ) – very pleased with third place – earned 38 points. With a two-round championship a draw is not uncommon, followed by a sudden-death run-off to decided the winner.
The final round of this year's championship at Cabarita next week is an entirely different track, and the Trojan-Sprintec team will hit it after a 2200km drive before the final push to maintain their title lead.
UIM World SuperBoat Championship Round 1
Provisional Results, top 12 only
1 Peter Caughey                  NZ      49.24 secs            40pts
2 Phonsy Mullan                Aus    50.7 secs               39
3 Nick Berryman                NZ    51.09 secs              38
4 Mick Carroll                    Aus    52.21                      37
5 Daryl Hutton                   Aus    54.3                       36
6 Baden Gray                      NZ    DNF  (rolled)        35
7 Michael Cunningham    Aus    53.3                       34
8 Tremayne Juke               Aus    58.83                    33
9 Scott Krause                    Aus    54.82                      32
10 Kyle Patrick                  USA  55.38                          31
11 Daniel DeVoight           Aus    56.22
12 Rob Coley                      NZ    93.97
NOTE:
Group A winners
Ollie Silverton and Jess Sit (NZ)
Justin Roylance
Ross and Shane Travis