Caughey sets record with 10th SuperBoat title despite final round engine gremlins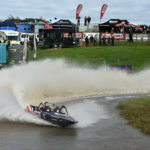 "We lost the battle but won the war" says 10-time New Zealand SuperBoat champion Peter Caughey.
The record-holding Canterbury racer successfully defended his title by winning five of the six rounds outright, but mechanical gremlins put paid to a six-from-six series in the final round first qualifier.
"New Plymouth was a long way to go for 25 seconds at race pace!" said a frustrated Caughey. "We didn't complete one run… we didn't think we had an issue as the motor ran fine at the start of the run, we got a few turns in and that was that."
As he was being towed in the crew was busy totting up the points to see if he could remain in championship contention.
"Our misfortune made for a fair bit of excitement in the MouthFresh SuperBoat field as the guys had plenty to race for, with Nick Berryman and Rob Coley racing for the series second and third overall."
In the event Nick Berryman came first, with a sub-40-second lap and Rob Coley spun out of the top five, to give Berryman the event win, Baden Gray second and Aaron Hansen third.
That meant Berryman was second overall and Coley third, with Caughey taking the Altherm Championship.
Caughey's mechanical gremlin was related to that which threatened to mar round five.
"The motor jumped a pushrod, and that's bounced on the end of the rocker, and not seated back into its correct position so it jammed the exhaust valve open so the piston hit and bent the valve."
"The part failure hasn't seriously affected the motor," Caughey says. "But we will change that system now completely, as there's obviously a product failure going on there and we'll go to a more proven design."
The breakdown also interrupted some development testing at race pace, as teams look ahead to the next World Championship.
"But the feedback we did get was valuable, which helps as we look ahead, though we would have liked to have tried further tuning."
"On that note, I can't thank my ENZED Trojan team enough for all their hard work. If they hadn't handled the repairs we needed, and needed fast, at Meremere we wouldn't have had enough of a lead to still claim the title."
"Shama Putaranui has well and truly proved her navigation skills, and I couldn't ask for a better pit crew than Ross Baynes, Jeremy Madeley, Jono Print and Grant Poultney, and of course my wife Karyn, who keeps everyone up with the play on social media."
Caughey says one thing he regrets about the final round is not putting on a better show for the strong ENZED turnout.
ENZED has sponsored his team for every one of its New Zealand titles. "Energy Hydraulics Limited – EHL – has the Taranaki franchise, they're a great bunch and have always been strong behind us right from the get-go. We knew them when they had four or five staff and now they have 55, it's been great to see that success, and to see them get a lot out of the sport, entertaining their VIPs and staff."
He says his team has been buoyed by the same enthusiasm from ENZED nationwide, "Again, we couldn't have asked for a better partner. It's great to get that 10th title on board and get that bit of history – no one has ever secured 10 titles in jetsprinting before, and ENZED has been a part of that, through every one of those 10 SuperBoat championship seasons."
Caughey says Trojan has also been a great anchor to the team over the past five or six seasons, "The crew is a great bunch, easy to work with and we use a heap of its product, as it's a big part of our business — most boats commissioned from Sprintec need a trailer to go with them."
"We'll look forward to showing the Trojan guys in New Zealand and Australia what their support means to us by putting in a good fight for another world title."
Ollie Silverton in his Sprintec won his second consecutive Group A championship title in Taranaki. Caughey says, "He's looking like the man to beat in the upcoming worlds, starting the last weekend of October 2018 in Keith, South Australia."
This season we have seen new names to the top of the SuperBoat class. Nick Berryman and Baden Gray are new names to be serious top-five prospects, and Rob Coley has always been there and is a strong contender for an outright win, so it'll be a very exciting World Championship ahead."
Altherm Window Systems NZ Championship
MouthFresh SuperBoat class
Provisional points, round six, top 10 only
1 Nick Berryman 39.917 seconds
2 Baden Gray 39.94
3 Aaron Hansen 41.203
4 Richard Murray
5 B Briant
6 Rob Coley
7 R Brian
8 D Simmons
9 G Morgan
10 S Donald
MouthFresh SuperBoat
Provisional points
After six of six rounds, top 10 only
1 Peter Caughey 167
2 Nick Berryman 158
3 Rob Coley 156
4 Richard Murray 147
5 Baden Grey 138
6 Aaron Hansen 132
7 Scott Donald 115
8 Dave Simmons 114
9 B Briant 104
10 P Thompson 87