Pete Caughey announces retirement in style
Seven-time world champion gets airborne
Pete Caughey announces retirement in style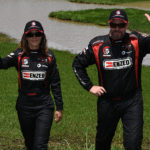 Seven-time World Champion jetsprint racer Peter Caughey had hoped to crown his 30-year racing career with a final world championship.
In the end it was not to be. After setting the fastest split times at every round on the final day of the 2018 World SuperBoat Championship in Australia, and the fastest time of the day, he made it through to the final top-three elimination round, and was rocketing down a shallow water channel at over 100kph when his steering wheel came off in his hands.
With no brakes to slow him, the boat speared straight into an island, took off – and landed right-side up with Caughey and his dauntless navigator, Shama Putaranui, unharmed.
But finishing on the third step of the podium meant he finished the Championship second overall at the last race of his career.
Caughey announced his retirement at the post-race prizegiving, to a standing ovation from friends, racers and crews after a day in which he'd proved his mastery – not only at wringing speed out of this light-weight, high-powered water-skimming jet craft, but at building them, too.
Aussie Phonsy Mullan took his first World title in a Sprintec boat Caughey built, and Ollie Silverton took his first Group A World title in a Sprintec boat.
Indeed Sprintec – the company Caughey built and still runs today – has taken every World SuperBoat title since 2008, a record he hopes to continue now he can concentrate on the business of helping other racers to go fast.
But that was far from his mind when the flag first dropped on the final day. This Cabarita track had proved difficult to master. Non of the New Zealanders had raced it before, and with nine islands and a proliferation of channels to remember – the boats do around three circuits, with a different route each time, all in under a minute – many teams took time-sapping wrong turns.
Caughey says, "we eventually mastered the tricky rotation – Shama had it down pat but with so many small islands and channels, it's hard to distinguish by hand signals which of several options is meant in the 100th of a second a drive has to make a decision."
One junction was traversed twice each rotation, and "Each time I played it safe, backed off a little bit so I could find the channel – you're steering round a shallow pile of dirt blind, trying to work out which channel flashing by is the right one this time around."
Fortunately Caughey's team uses a GoPro fixed aboard the boat, and overnight reviewed the footage to fix the style and shape of islands and channels.
"Our Sprintec boat is so agile that the increased navigational confidence meant we could circulate rather than going hard out, yet we still set the fastest split times in all sectors by a good margin."
Caughey and his Trojan-Sprintec boat were on target for a 53-second run in the final, when the steering coupling issue came into play.
"We think it was caused by the salt water from Keith getting into the quick-release mechanism. There is a double safety system, but if the balls in it jam or partly seize… and that seems to be what happened."
Caughey is very aware it could have been far worse. The wheel could have come adrift earlier in the day – as it was, he gained enough points to seal second overall. It could have come adrift at a more dangerous location – and he could have ended the day in an ambulance.
And then there's Ollie Silverton's win. "Aucklander Ollie has two New Zealand Group A titles, but this was his first World title. He had a three-second advantage over the nearest Aussie opposition, and he did it in a Sprintec boat."
And in other good news for the Kiwis, NZ Rookie of the Year Sean and Faye Rice finished in second at round two in the Group A class.
It's been 30 years since Peter Caughey built his first sprint boat in a friend's garage.
Since then he's won seven World and 12 New Zealand titles, "And the trophy cabinet is bulging generously."
He's raced in four countries, "And met some amazing people. I can't thank enough the many team members who've stood alongside me, past and present, and my loyal sponsors and partners – without them all I'd have achieved very little."
"ENZED, Trojan and Total have all been outstanding commercial partners during the greatest part of my racing career."
What next for this legend of jetsprinting?
"New challenges and horizons," Caughey says. "The bucket list is exciting, and I'll be spending time with my incredibly supportive wife and my children, Georgia, Harrison and Mackenzie, plus friends and family."
"It's going to be really difficult, not to be travelling and racing with my talented current team of Ross Baynes, Shama, Jeremy Madeley and my wife, Karyn Caughey. We've all got busy lives and lots of interests, but I'm sure we'll enjoy our social get-togethers."
And don't get Caughey wrong, jetsprinting is still writ large in his future. His Sprintec order list is longer than ever, and there's a new prototype 750hp quad sprint jetboat in his workshop, due to be launched this month, "And some exciting plans for our Sprintec business."
Watch this space, Peter Caughey may no longer be at the wheel, but the Sprintec brand will continue to clean up on sprintboat circuits for many years to come.
UIM World SuperBoat Championship
Results, top 3
1 Phonsy Mullan    Aus
2 Peter Caughey    NZ
3 Nick Berryman   NZ
Competitors in the 2018 World SuperBoat Championship
Nation        Driver                               Navigator                  Team
Australia      Mick Carroll                        Daniel Kelly                  Excalibur
Australia      Jamie Welch                       Joel Page                       Natwell Racing
Australia      Rachael Swartz                   Tanya Uren                  All Torque
Australia      Simon Cain                         Arihana Palatchie        Quality Time
Australia      Slade Stanley                      Chrystal Stanley           Hazardous
Australia      Michael Cunningham       Narelle Grayland          True Blue
Australia      Tremayne Jukes                Brett Elswurth               Maniac
Australia      Paul Burgess                      Matt Foote                      Daly Transport
Australia      Phonsy Mullan                  Madeline Chorley          Ramjet
Australia      Daryl Hutton                     Michael Parry                 American Automotive
Australia      Scott Krause                       Rachel Parsons              KAOS
Australia      Paul Gaston                        Louise Blythe                 Heatseeker
NZ             Peter Caughey                       Shama Putaranui           Trojan/Sprintec
NZ             Scott Donald                          Nicole Reesby                 Wicked II
Australia      Daniel de Voigt                 Vicki Burrell                    Devo Racing
NZ             Nick Berrymany                   Amanda Kittow               NZ Riverjet
NZ             Rob Coley                              Ange Coley                        Poison Ivy
USA          Kyle Patrick                            Amanda Thompson        Psycho Racing
NZ             Baden Gray                           Darryn Todd                     The Specialist
Australia      Glenn Roberts                  Tiarna McGifford             Blown Budget
Australia      Cheryl Welch                   Narelle Pellow-Djukic      Natwell Racing
Australia      Tony Giustozzi                Gavin Leathley                   Excalibur
2018 World Jetsprint Championships
Round 1: Keith SA, Australia, October 27-28
Round 2: Cabarita Beach, NSW, Australia, November 3-4