Caughey hunts stadium title
ENZED title eludes ENZED team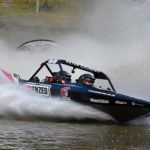 SuperBoat racer Peter Caughey has seven world Jetsprint titles to his name, and 11 New Zealand titles – with all but three of that total in the top-billing SuperBoat class.
But there's one crown which still eludes him.
"The Baypark event on January 27 is unfinished business for us," Caughey says. "It's one of the few major trophies and titles that we haven't secured yet, a bit ironic given this is the ENZED Stadium Cup, and ENZED also sponsors our team."
Bay Park is not part of the Altherm Window Systems NZ Championship calendar, "But it's huge. Saturday will see one of the largest Jetsprint events in the history of the sport, and one of the most spectacular, and I want that win."
Bad luck and breakdowns dogged his previous attempts at that elusive crown, and he and his ENZED team are focused on beating those gremlins when the flag drops on racing this weekend.
"There's something very special about racing in a stadium with 15,000-plus spectators," he says. "We always look forward to racing in the Bay of Plenty, it turns out a great bunch of enthusiastic fans who really show their appreciation."
But there's a flipside to racing high-powered craft at this stadium track, for it's dug out of the turf just for this event, and, "As a racer it is one of the most unforgiving and demanding venues to race," he says.
"It is a temporary track, the soil is quite loose so parts of the circuit tend to erode, especially the sandy sub layer, and that means the track changes shape as the event progresses, so the circuit for the final is quite different to the circuit for the first qualifier."
And as the track erodes, the water becomes very dirty, which makes it more  buoyant, so the boats are harder to control.
This time around Caughey says the rotation around the island sequence is busy, with a fast finish, so spectators can expect plenty of action.
"The layout is similar to that of the world champs a few years ago, but the sequence is different, with most turns to the right – which in itself presents some challenges."
"But at the end of the day we all have the same conditions, and those tight, technical tracks tend to suit our boat very well, so we can go there knowing we should have a very competitive package."
The ENZED team are impressed with what event promoters Matt and Pip Minnell have achieved at Baypark. "To come up with the concept of digging up the stadium turf to run this event, then replacing it as it was, and to get the word out as they have, is amazing," he says.
"This must be NZ's best known local sporting fixture, yet right from the original concept it's been a very gutsy challenge, and Matt, Pip and Baypark venues commercial manager Ervin McSweeney have done a superb job."
"Cavie, the world's hairiest commentator, will be there again with his raucous and entertaining commentary, and there'll be some serious contenders for him to talk about," Caughey says.
"The guys we'll watch out for are Blake Briant, Darek and Ted Sygidus and Rob Coley, who always puts on a great show and will be fast and pushing hard."
"Then there's Richard Murray with the ex Hulk boat, and Nick Berryman, and five of the SuperBoats entered are supercharged or turbo charged, so there will be no shortage of noise echoing around this arena."
The two notable absences are Sam Newdick, sitting out this event while his engine gets some TLC ready for the next championship round, and Glen Head, current world champion, still recovering from surgery early this season with the Altherm boat.
But there's no more time to chat. Caughey and his ENZED crew have a job to do – getting their rig set up at Baypark ready for the qualifiers to start on Saturday afternoon, with racing set to go on until 10pm.