Caughey extends SuperBoat lead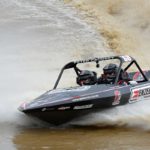 ENZED team sets day's fastest time at Waitara
Canterbury racer Peter Caughey has extended his lead at the midpoint of the MouthFresh SuperBoat championships, with a commanding win at Waitara on Saturday – despite getting airborne at 120km/h.
"It's always nice to win an event with a fastest time of the day," Caughey says, "Especially as it was always going to be a tight race."
Rob Coley in the Nissan twin-turbo Sprintec threw down the gauntlet with a 40.8-second time early in the day at only the second event he's raced in his new craft.
"It was a really good run, and it turned out he couldn't repeat it in the final, when he had an issue at the hairpin."
Caughey says it's not unusual that setting a fast time early adds pressure to go even faster. "There's then a real temptation to over drive, which is a risk – especially on a track like this."
Waitara is a famously tight and tricky track. "It's a bit of an exaggeration to say you've got an F1 car on a go-kart track, but there were times we felt we had 200 horsepower more than we need."
"We always picked this would be a navigator's track, there were a lot of very tricky sequences, and it's such a very small track you don't get any extra time to gather your thoughts,"
"There is absolutely no space for error," Caughey says, "And no time between turns to get a breather, you have to get in the groove and keep it in the groove, as one minor mistake will lead to three or four bad lines and that will ruin your run."
Nick Berryman had been consistently quick, but had a navigation issue in the final. Rob Coley's moment at the hairpin meant he hit a 42.57, and Caughey crossed the line in a blinding 40.3 seconds.
"It would have been nice to have got a 39, but we're racing a championship, we have another round in two weeks and we need to keep the boat straight. If it was the last event of the season we'd have gone all out to knock out a 39, as it was we were well pleased with our race."
"In the final there were a couple of places the boat was in the air, hitting wakes at high speed is not easy on the boat or the crew, and makes for an exciting ride to put it mildly."
"Hitting a wake and taking off at 120 or 130km/h as you're spearing into a turn is alright if you land in the water, but if you don't – or land crooked – that'll end it, right there."
Caughey said all the crews faced very changeable air conditions as temperatures rose and dropped.
"We started our first run with exceptional air pressure, the boat was making good power, then the sun came out, it warmed up, the humidity changed and by 11am the air was junk, we had to lean the motor off, adjust different valves … Then the air pressure improved: there was barely a run where we didn't have to chase the weather and make an adjustments."
"Fortunately there's plenty of experience in the ENZED team to keep the motor on form and producing its maximum."
Caughey said that despite the complicated track for this round of the Altherm Jetsprint Championship there were very few spectacular crashes, "Plenty of near misses and excitement, but a track like that you can expect two or three really big crashes."
Caughey and his crew now head back to their Canterbury workshop to check the boat over, before making the long drive to Hastings for the fourth round of the series.
Provisional results after three of six rounds, top 8 only
MouthFresh SuperBoat championship
1 Peter Caughey 90
2= Rob Coley 76
2= Nick Berryman 76
4 Sam Newdick 71
5 R Murray 69
6 Aaron Hansen 67
7 Baden Gray 62
8 Ted Sygidus 57
Altherm Window Systems NZ Championship – 2017/2018:
Round 4 – Hastings March 11, 2018
Round 5 – Meremere March 24, 2018
Round 6 – Waitara April 14, 2018